When I was first starting out with amigurumi, hair was always the most daunting part. I've since learnt a few different methods for doing various hairstyles (although I'm still trying to figure out a good one for short spiky hair) and a recent custom order meant I needed some curly hair. I had a lot of fun figuring out how to make curly doll hair with yarn, and I couldn't think of a better character to demonstrate this technique with than Hermione Granger from Harry Potter!
You will need:
paper straws
embossing heat gun*

*I first read about this technique on BuddyRummi. They talk about some alternatives to using the heat gun, but I've found it to be so convenient that it was well worth the $16 or so I spent to get it from eBay.

scissors
yarn (in flesh tone, and in the chosen hair colour)
crochet hook (I prefer a 3.00mm one)
I use 100% acrylic 8ply yarn, although I have also tried this with 60% acrylic, 40% nylon with the same results.
You will also need a head and hair cap. Below is the pattern I use for most of my dolls heads. If you're having trouble reading my patterns, check out the faq.
HEAD
1. MR 6 (6)
2. [ inc ]x 6 (12)
3. [ inc, sc ]x 6 (18)
4. sc, inc, [ sc 2, inc ]x 5, sc (24)
5. [ inc, sc 3 ]x 6 (30)
6. sc 2, inc, [ sc 4, inc ]x 5, sc 2 (36)
7-12. sc 36 (36)
13. sc 2, dec, [ sc 4, dec ]x 5, sc 2 (30)
14. [ dec, sc 3 ]x 6 (24)
15. sc, dec, [ sc 2, dec ]x 5, sc (18)
I usually finish off there, and join the open head to an open neck on the body. You can see an example of this in the Monkey D Luffy or Yuri & Victor patterns.
I also stagger the increases and decreases to make them less noticeable, for a smoother sphere. For the wig cap, just repeat the above instructions until row 12, then finish off, leaving a long tail which you can then use to attach the wig cap to the head.
If your character has a fringe, embroider it on using a length of hair coloured yarn at this point
Now for curling! This is where the paper straws come in. For the yarn I use and the head I end up with, I find that 10 straws create enough yarn to cover the head. Each straw will leave you with one group of 4 curly strands.
I've also heard of people using chopsticks or knitting needles to achieve the same effect. I like the paper straws because they don't deform under heat like plastic ones would. So, first take a pair of scissors and cut into the straws at the ends, to make a nook that you can use to secure the yarn while it's twisted around the straw.
Then wrap the yarn for the hair around each straw from the top to the bottom. For very long hair, you'll want to wrap the yarn very closely around the straw so that you don't have the gaps these ones below do.
Then use the heat gun to curl the yarn. I heat all 10 straws at once, moving the heat gun constantly to ensure all of the yarn gets even heating time. Then, leave the straws until the yarn has cooled (it's fine to touch immediately, but I leave it until it's no longer warm to ensure it sets).
This is what you'll end up with once you pull the yarn off the straw. Fold it in half, then fold it in half again and cut the loops at the end. One strand from the straw will cut into 4 curly strands.
Now take a length of yarn and pull it through the top of her head where you want the hair part to begin. Use this to secure the bunch of hair to the head. Keep doing this until the entire head is covered.
Tada!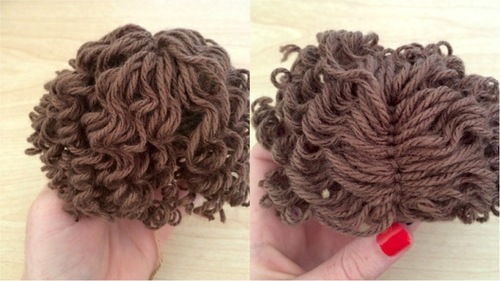 The last thing I do is take some fabric glue and use it to further secure the hair in place (the Helmar brand fabric glue is great because it's easy to work with and bonds quickly, so it's good for fast work). Flip one side of the hair over and place a line of the glue at the root of the hair. Then flip the hair back over and smooth it down.
This helps make sure that the hair won't come loose and will sit nicely on the head. And that's the curly hair done!
I'd love to see any dolls you've created using this method 😄 If you share on Instagram or Tumblr, don't forget to tag @53stitches so I can check it out.