Charmander is my favourite starter pattern going on more years than I'd like to admit now. I've loved the fire starters since the 1st gen, and I loved how grouchy he was in the anime (he reminded me of a cat 😂). This is a perfect crochet project for beginners as this Charmander crochet pattern is made up of nice simple shapes!
If you don't crochet but still want one of these Charmander amigurumi plush dolls for yourself, he's available over on my Etsy store. Enjoy the free crochet pattern!
You will need
I've added links to a Paintbox DK Cotton colours that match what I usually use to crochet Charmander – I find a good non-neon Orange particularly difficult to find when shopping for yarn online! For the red and yellow of his tail, you're better off using a wool or acrylic as cotton won't get as fluffy after brushing.
Note some of the links on this site are affiliate links. This means I get paid a small fee if you decide to purchase anything at no extra cost to you. I will only ever link products I happily use myself.
3.00mm crochet hook
2 x 10mm safety eyes
orange yarn (Paintbox Cotton DK 456 Vintage Pink – but I promise it's orange haha)
red yarn
yellow yarn
pale yellow felt
fabric glue
pet hair brush, for brushing out yarn
Quick reference for beginners
Check out some of the below tutorials if you get stuck on any of the stitches or techniques
If you get stuck anywhere else, check out the FAQ.
Let's start crocheting Charmander!
HEAD
1. MR 6 (6)
2. [ inc ]x 6 (12)
3. [ inc, sc ]x 6 (18)
4. sc, [ inc, sc 2 ]x 5, inc, sc (24)
5. [ inc, sc 3 ]x 6 (30)
6. sc 2, [ inc, sc 4 ]x 5, inc, sc 2 (36)
7-12. sc 36 (36)
13. [ inc, sc 5 ]x 6 (42)
14-15. sc 42 (42)
16. [ dec, sc 5 ]x 6 (36)
17. sc 2, [ dec, sc 4 ]x 5, dec, sc 2 (30)
18. [ dec, sc 3 ]x 6 (24)
Finish off, leaving a tail for sewing. Insert safety eyes between rows 12 and 13, with about 7 stitches between them.
BODY
1. MR 6 (6)
2. [ inc ]x 6 (12)
3. [ inc, sc ]x 6 (18)
4. sc, [ inc, sc 2 ]x 5, inc, sc (24)
5. [ inc, sc 3 ]x 6 (30)
6-8. sc 30 (30)
9. [ dec, sc 3 ]x 6 (24)
10-12. sc 24 (24)
Finish off.
LEG (make 2)
1. MR 6 (6)
2. [ inc, sc ]x 3 (9)
3-6. sc 9 (9)
Finish off, leaving a tail for sewing.
ARM (make 2)
1. MR 6 (6)
2. [ inc, sc 2 ]x 2 (8)
3-4. sc 8 (8)
5. dec, sc 6, (7)
6. sc 7 (7)
Finish off, leaving a tail for sewing.
TAIL
1. MR 5 (5)
2-3. sc 5 (5)
4. inc, sc 4 (6)
5. inc, sc 5 (7)
6. inc, sc 6 (8)
7. inc, sc 7 (9)
8. sc 9 (9)
9. inc, sc 8 (10)
10. inc, sc 9 (11)
11. sc 11 (11)
Finish off, leaving a tail for sewing.
To create the fire effect for the tail, we're going to take some scrap pieces of yellow and red yarn.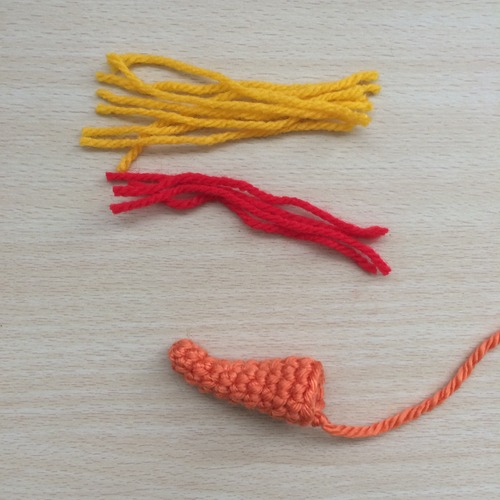 Insert your crochet hook into the hole at the end of the tail and poke it back out through a stitch in the first round. Fold one of the pieces of scrap yarn in half, put it on the hook, and pull it out the end of the tail. Then grab the tails with your hook and pull these through the loop, pulling the yarn tightly to make sure it's attached firmly.
Do this around the entire tail, alternating between yellow and red scraps. I like to trim the scraps before brushing them out. Take the pet brush and start brushing the red and yellow scraps so that they become fuzzy. You may end up with a bunch of yarn in the brush, but don't panic, that's normal.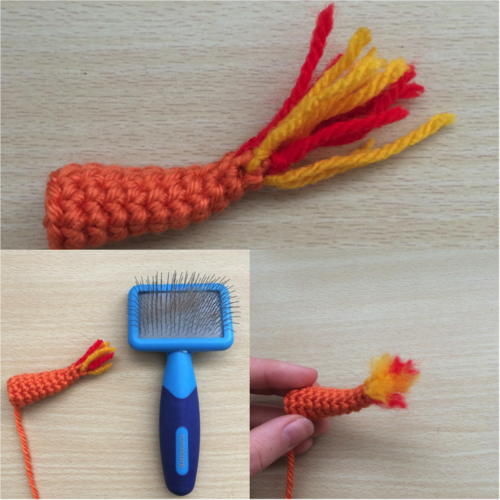 Putting it all together
Tada! A fuzzy, fiery tail.
Now you have all of the pieces ready for assembly. Stuff the head, body, tail and legs. The tail and legs don't need much stuffing to maintain their shape.
Next I like to pin all of the body pieces into place so that I can make sure they're positioned properly before using the tails to attach them. I usually find them easiest to attach in this order: legs, tail, arms, head.
The last thing left to do is his belly. Take a small piece of pale yellow felt and cut it into a wide oval, or curved rectangle shape. The size of this piece will depend on your doll, so adjust as necessary, and glue in place!
Congratulations, your crochet Charmander amigurumi is finished! I hope you've had a great time making him, and if you share on Instagram or Tumblr, don't forget to tag @53stitches so I can check it out.
Other Pokemon crochet patterns
Haven't had enough? Check out some of the other Pokemon crochet patterns in the collection. You could make a Squirtle or Bulbasaur to complete to starter trio, or check out some of the Eeveelutions.